Independent Watkins Consultant Anne Thomas
---
I'm proud to introduce the excellence of Watkins.  I hope you'll also consider joining me as a Watkins Consultant-there's untapped potential for big earnings no matter where you live in the U.S. or Canada.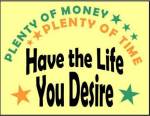 Watkins is repeatedly named among the top business opportunities in North America. Watkins has outstanding products and a top-notch compensation plan. Plus, if you join under Watkins through me, you'll be a part of the Summit Group, one of the largest and fastest-growing organizations of Watkins Consultants. The Summit Group provides free training and support that can help you develop a significant income (we'll even give you a FREE website to promote your business). You can build a Watkins business online or with traditional methods. It's fun, interesting, and there's no pressure to ever do more than you want to. You can get started today for as little as $19.95 plus tax!
Click here to learn how you can earn income with us or Join me today .
A free prospecting website is just one of the benefits of joining our team! Why not get started today?
Whether you want to share the products with others or use our team-building method (simply buying the products and sharing the business with others)- a Watkins business on our  team can work simply into your life-style, on your schedule, and can be quite rewarding.
I've enjoyed working with and helping people succeed with a Watkins home business since 1995 throughout North America- our training and support can help you also!
Anne Thomas
404-585-1244
Share and Enjoy